Island
SCR093
Acheter sur
Secret City Records
Paru le 22 mai 2020
| | |
| --- | --- |
| 1. | ---> (i) |
| 2. | Transformer |
| 3. | Paragon Of Order |
| 4. | ---> (ii) |
| 5. | The Sound Of The Engines |
| 6. | Perseverance Of The Saints |
| 7. | Polar Vortex |
| 8. | ---> (iii) |
| 9. | A Bloody Morning |
| 10. | Fire-Mare |
| 11. | Lewis Gets Fucked Into Space |
| 12. | ---> (iv) |
| 13. | In Darkness |
| 14. | Paragon Of Order (version) |
| 15. | Fire-Mare (version) |
Dans certains cas, l'art est un moyen de subsistance. Il aborde parfois la guérison ou les blessures; il peut être ludique, ou concerner les efforts nécessaires à sa propre création. Il y a de l'art sur le désir, la politique, le désespoir, l'héritage, les reptiles mythiques. En 15 ans et cinq albums solo, le musicien torontois Owen Pallett a créé de l'art qui correspond à toutes ces choses — de la musique qui brille, qui galope, qui frémit, qui jouit. Travaillant seul ou avec certains des plus grands noms de la musique populaire, il a inscrit son nom dans le son du début de ce siècle, tel un message caché dans les ourlets.
Island, le plus récent album de Pallett, commence avec 13 accords sombres. C'est le son d'un éveil, seul, sur un nouveau rivage. Ce qui suit est scintillant et luxuriant : un album orchestral qui puise dans toute l'étendue de la discographie de Pallett, du splendide Technicolor de Heartland à l'étincelante guitare grattée à la main qui caractérisait les premiers disques de Pallett avec Les Mouches. Presque entièrement acoustique, Island fait appel au plus grand ensemble de la carrière solo de Pallett, le monumental Orchestre contemporain de Londres, qui a été enregistré aux studios Abbey Road. Or, le disque présente aussi la version la plus épurée et souvent sobre du musicien, mettant en valeur les mots qu'il chante et la façon dont il les chante.
Pour la première fois, Pallett a créé un album sans se soucier de la façon qu'il pourrait être joué sur scène. Ce ne fut pas une transition évidente, car Pallett a initialement fait sa réputation en grande partie grâce à sa virtuosité scénique, jouant du violon pour des groupes tels que Arcade Fire et Hidden Cameras, puis émergeant en tant qu'artiste solo maniant le solo et les pédales de loop sous le nom Final Fantasy. Sa deuxième parution, He Poos Clouds (2006), a remporté le tout premier Prix de musique Polaris, et bien que le violon se soit progressivement éloigné du cœur de sa musique, cet instrument (et la question des performances scéniques en général) n'a jamais cessé d'être une préoccupation.
Du moins, jusqu'à maintenant. Pallett a composé les neuf chansons d'Island sur une bonne vieille guitare acoustique. Plus tard, il a imaginé ces pièces en tant qu'un album orchestral immersif de 80 minutes. Le résultat final se positionne quelque part entre les deux : une distillation de 46 minutes d'un processus d'enregistrement instinctif s'apparentant à un tourbillon, avec une série de brèves sessions intenses s'étendant sur des années.
La fascination de Pallett pour la forme et son appétit pour l'expérimentation ont guidé toute son œuvre. Là où Has A Good Home (2005) était un disque de pop de chambre avenante, son album paru l'année suivante, He Poos Clouds, était un album concept inspiré de Donjons et Dragons, enregistré avec un quatuor à cordes (bien sûr!). Après un EP avec Beirut et une collection de reprises d'Alex Lukashevsky, Pallett a commencé à lancer de la musique sous son propre nom, avec d'abord Heartland (2010). C'était le début de la saga de Lewis : l'histoire d'un beau, mais violent fermier luttant avec un dieu — la déité Owen.
Sur In Conflict (2014), Pallett a pris une direction différente. Plutôt que de submerger ses thèmes dans un monde fantaisiste, il a tenté d'écrire en tant que lui-même, adoptant une approche autobiographique. « Ironiquement », dit-il maintenant, « ces chansons semblaient moins sincères. » Avec Island, l'auteur-compositeur retrouve Lewis – seul sur la rive d'une contrée étrange, s'abandonnant à ses instincts les plus autodestructeurs. Éventuellement, l'ancien fermier découvre un secret à propos de son identité, mais pas avant qu'Owen l'ait littéralement baisé jusque dans l'espace. Le disque a révélé son entière force philharmonique, alors que le piano et la guitare émergeaient, accompagnés d'un orchestre en guerre contre lui-même, suspendu dans les ténèbres.
« Je ne sais pas ce qui va arriver ensuite », avertit Pallett. Mais cela a toujours été sa nature en tant que musicien qui s'interroge sur le positionnement potentiel de la voix d'un artiste, puis qui transforme cette interrogation en sujet de chanson. Il fait ceci avec des paroles drôles et saisissantes, d'une grâce trompeuse; elles brillent comme des pièces d'or. On y retrouve des allusions à des grimoires secrets, à des questions sociopolitiques contemporaines, à Flann O'Brien et à The Legend of Zelda, ainsi des arrangements extraordinaires, imaginés entièrement par Pallett, un don qui fait de lui un collaborateur très prisé.
En plus de son travail avec Arcade Fire, qui a été récompensé aux prix Grammy, Pallett a récemment fait des arrangements de cordes, de cuivres et d'orchestre pour Frank Ocean, Caribou, The Last Shadow Puppets, The National, Christine and the Queens, R.E.M., Linkin Park, Sigur Rós, Taylor Swift, et Pet Shop Boys. Depuis le lancement de In Conflict il y a six ans, il a composé la musique de deux séries télévisées et de sept films, obtenant une nomination aux Oscars pour son travail sur Her de Spike Jonze, ainsi qu'un Emmy pour Fourteen Actors Acting de Sølve Sundsbø. Plus récemment, il a réalisé In League With Dragons, l'acclamé 17e album des Mountain Goats.
Néanmoins, ce n'est pas à quel point il travaille fort qui définit la démarche artistique de Pallett. C'est une qualité encore plus rare : la vision, une façon de voir les choses plus clairement. Possiblement même une forme de clairvoyance. Pallett donne naissance à des mondes entiers, constitués de sons et d'images que seul lui pouvait imaginer, et que l'auditeur peut désormais voir, comme si un portail s'était ouvert. Le secret, de toute évidence, est qu'il ne s'agit pas simplement de jolies illusions : ce sont des chansons sur le fait d'être vivant, en se demandant pourquoi on l'est, considérant toutes les horreurs de l'existence. Elles n'offrent pas de réponse. « I grab the hem and lift the fabric over my sweet head » [« Je prends l'étoffe et je la mets par-dessus ma douce tête »], chantait Owen il y a une dizaine d'années. « I know what you're looking for and I'm never gonna give it to you. »  [« Je sais ce que vous recherchez, mais je ne vous le donnerai jamais. »]
Autres sorties de Owen Pallett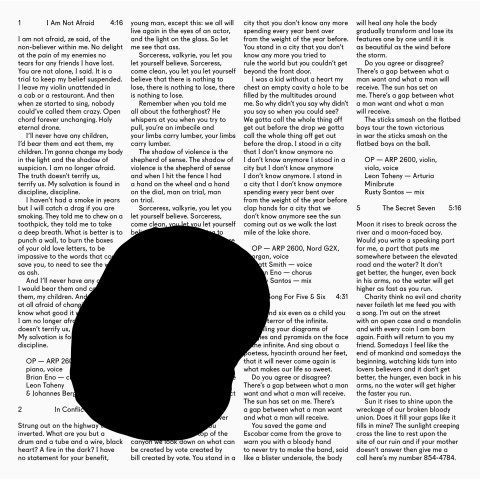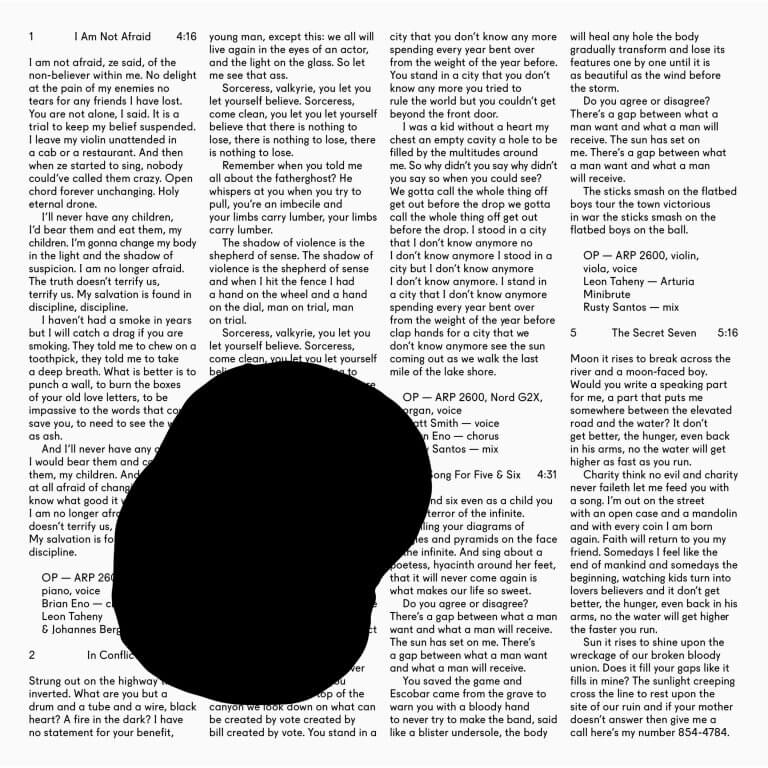 In Conflict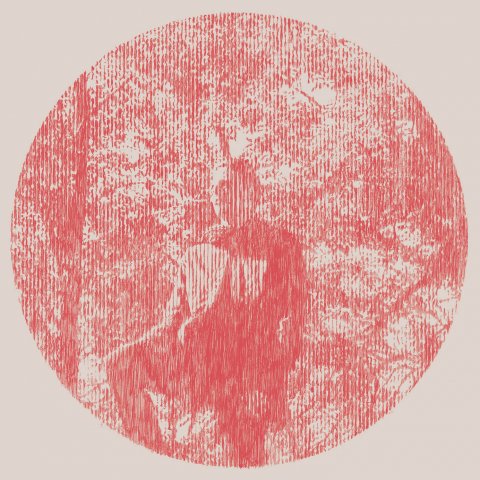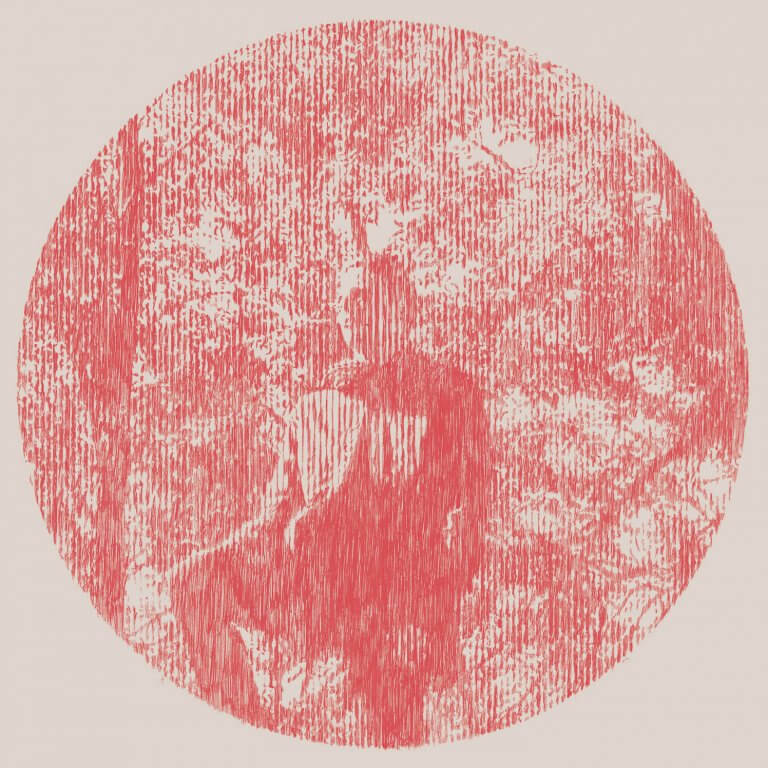 Heartland (Deluxe Edition)