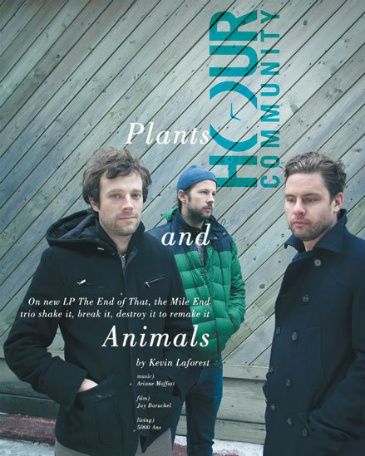 Plants and Animals fait la couverture du Hour cette semaine, pour souligner la sortie de leur nouvel album The End of That en magasin le 28 février prochain. Pour lire l'article, cliquez ici.
Vous pouvez aussi écouter l'album au complet sur le site web de Paste Magazine cette semaine.
Ne manquez pas le spectacle-lancement au Cabaret du Mile-End le 10 mars prochain.
PLANTS AND ANIMALS
PREMIÈRE PARTIE: THUS:OWLS
SAMEDI 10 MARS 2012
CABARET DU MILE END
5240 Avenue Du Parc
PORTES 20h
SPECTACLE 21h
Billets : 17$ || Cliquez ici pour en acheter